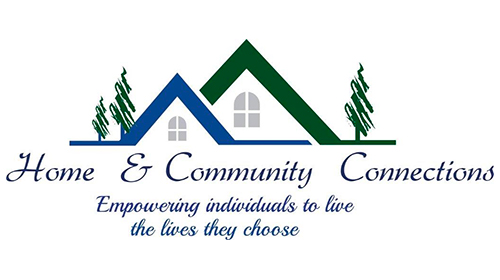 Mission
Home & Community Connections provides innovative and individualized support that eliminates barriers and empowers individuals to live the lives they choose.
Vision 
People have a satisfied individual life they love.
People have real homes that meet their needs.
People lead a healthier lifestyle.
People are true members of their community.
People are more independent.
Practice Philosophy
Individuals are treated respectfully and all supports are person centered.
Individuals are supported utilizing trauma sensitive practices following Positive Behavioral Supports universal practices. The division is committed to continuous enhancement through innovative flexible supports and progressive practices.
Core Values
The people we support:
are supported to exercise their human and civil rights, take control of their lives, advocate on their own behalf, and influence decision making.
are supported to contribute to and enhance their communities.
have a variety of freely given relationships that they desire.
are given opportunities to learn new skills and reach their potential.
live in homes that are safe, comfortable, and reflect their personal tastes.
have life experiences that are valued and integral to shaping individualized supports.
are provided opportunities which promote personal wellness and healthy living.
Spiritual Care Program
The "Spiritual Care Program" is led by Social Justice and Spiritual Care Director Reverend Gregory Jones and has a mission to serve and encourage meaningful and purposeful relationships in, out, and around the community. These connections are nurtured through spiritual practices, art, nature, and/or things that bring the individual(s) meaning and purpose.  Rev. Gregory Jones says:
We are all connected one to another for a greater purpose than we realize. I am committed in giving, serving and provide the best of myself for the serves of others. Thank you for allowing me to live and express that with all of you here at the Consortium.