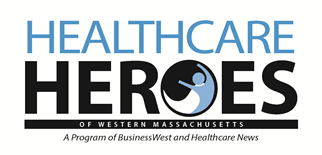 FOR IMMEDIATE RELEASE
SPRINGFIELD — BusinessWest and Healthcare News magazines, the business and healthcare journals covering Western Massachusetts, will honor their 2nd Annual Healthcare Heroes this Thursday, Oct. 25 at the Starting Gate at GreatHorse in Hampden.
The Healthcare Heroes program was created to shed a bright light on the outstanding work being done across the broad spectrum of health and wellness services, and the institutions and individuals providing that care.
More than 80 nominations were submitted, and candidates were scored by an esteemed panel of three judges. The stories behind the seven heroes reveal large quantities of energy, imagination, innovation, compassion, entrepreneurship, forward thinking, and dedication to the community. Honorees are profiled in the Sept. 3 issue of BusinesssWest and the September issue of Healthcare News, and are also available on www.businesswest.com  and www.healthcarenews.com.
This year's honorees are:
Mary Paquette, MS, RN, FNP Patient/Resident/Client Care Provider
TechSpring, The Baystate Health Technology Innovation Center: Innovation in Health/Wellness
Matthew Sadof, MD Community Health
Robert Fazzi Lifetime Achievement
Celeste Surreira, DNP, MS, FNP-BC, CNL Health/Wellness Administrator
Peter A. DePergola II, Ph.D., M.T.S. Emerging Leader
The Healthcare Heroes Gala on Oct. 25 will begin with a VIP reception at 4:30 p.m. with networking and opportunities to meet this year's honorees. There will be entertainment, butlered hors d'oeuvres, a lavish plated dinner, and more networking opportunities. Healthcare Heroes is presented by American International College and Baystate Health/Health New England and sponsored by Bay Path University, Elms College MBA Program, National Grid, Renew.Calm, and Trinity Health of New England/Mercy Medical Center.