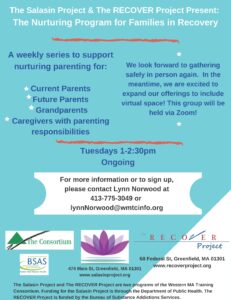 Support group offered for caregivers
GREENFIELD — The Salasin Project and The RECOVER Project are sponsoring a virtual support group for caregivers who have experienced domestic violence, substance use and/or recovery. The group has open enrollment, so there is no deadline by which to sign up.
The Nurturing Program for Families in Substance Abuse Treatment and Recovery is a 16-week, evidence-based group designed to offer adult caregivers educational information about human growth and development. This program explores the impact of substance abuse and domestic violence on children and families. The topics from week to week are designed to strengthen participants' self-esteem and encourage models for guiding behaviors in children.
For more information, contact Lynn Norwood at lynnnorwood@wmtcinfo.org or 413-774-4307, ext. 3.
Salasin Project offering Zoom workshops
GREENFIELD — The Salasin Project is hosting a variety of groups on Zoom.
Weekly Watercolor: Beginners meet and practice watercolor techniques with activities and still lifes. Days and times vary each week.
Gentle yoga with Joyce Landau will be offered on March 18, from 11 a.m. to 12:30 p.m.
MEGAdance with Megan will be held on March 25 from noon to 12:45 p.m.
Groups are open to anyone and free to join. Email Bcraig@wmtcinfo.org or call 413-774-4307, ext. 4 for more information or to register.